Craft your mixes with the presets created by the man behind the sound of Genesis, Mike and the Mechanics, Deep Purple, Marillion and many others.
---
Integrate Nick Davis' own T-RackS 5 presets into your session*. Explore the possibilities of mixing using the processing chains Nick has refined over the years, using the powerful T-RackS 5 processors.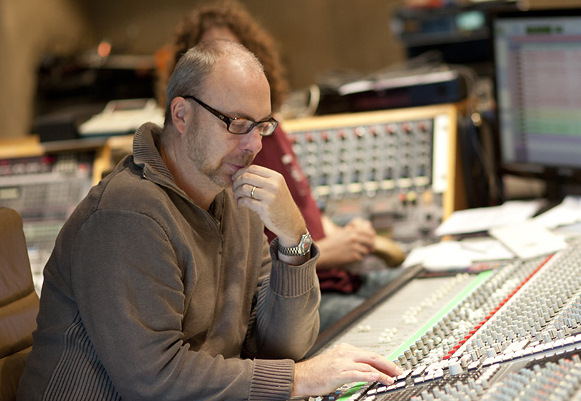 Nick Davis, has produced and engineered for some of the worlds biggest selling artists. Nick started his engineering career as an assistant at Polygram demo studios in the early eighties. He is an accomplished musician, playing the flute, keyboards, and drums and has since gone on to produce and engineer both Grammy and Brit nominated albums. Nick has had much chart success in Europe working with hugely successful artists both in France, Germany, and the UK.
Amongst others, Nick has worked with Genesis, Phil Collins, Aha, Mike and the Mechanics, Deep Purple, Marillion, XTC, Bjork, the Pogues and many others. Nick has also produced and mixed 3 critically acclaimed classical albums for Tony Banks.
Recently Nick has been working on the Phil Collins re-releases, remastering the studio albums and producing bonus material. He is now working with Tony Banks producing and mixing a new classical album due for release in spring 2018.
PRESET LIST:
Drums
Nick Davis Tom 2.tr5p
Nick Davis Tom 1.tr5p
Nick Davis Snare 4.tr5p
Nick Davis Snare 3.tr5p
Nick Davis Snare 2.tr5p
Nick Davis Snare 1.tr5p
Nick Davis Room.tr5p
Nick Davis Kick 2.tr5p
Nick Davis Kick 1.tr5p
Instruments
Nick Davis Tron Keys.tr5p
Nick Davis Synth Pad.tr5p
Nick Davis Piano.tr5p
Nick Davis Organ.tr5p
Nick Davis El Dist Guitar.tr5p
Nick Davis Bass Guitar 2.tr5p
Nick Davis Bass Guitar 1.tr5p
Nick Davis Acoustic Guitar.tr5p
Mix Buss
Nick Davis Mix Buss 2.tr5p
Nick Davis Mix Buss 1.tr5p
Vocals
Nick Davis Vocal Harmony Buss.tr5p
Nick Davis Lead Male Vocal 3.tr5p
Nick Davis Lead Male Vocal 2.tr5p
Nick Davis Lead Male Vocal 1.tr5p
Nick Davis Lead Female Vocal 2.tr5p
Nick Davis Lead Female Vocal 1.tr5p
*Please Note: Presets are available for all users who have downloaded and authorized T-RackS 5 Custom Shop, T-RackS 5, T-RackS 5 Deluxe or T-RackS 5 MAX and can be downloaded from the User Area.