When it comes to mastering, and hip-hop in particular, few men know their craft as deeply as Earle Holder. Integrate his own presets in your workflow!
---
When it comes to mastering, and hip-hop in particular, few men know their craft as deeply as Earle Holder. His masters are a concentrate of detail, chest-kicking punch and groove that will make you dance on your chair.
These specialized presets are designed to give you the possibility to master your tracks using the approach of one of the most sought-after mastering wizards in his category.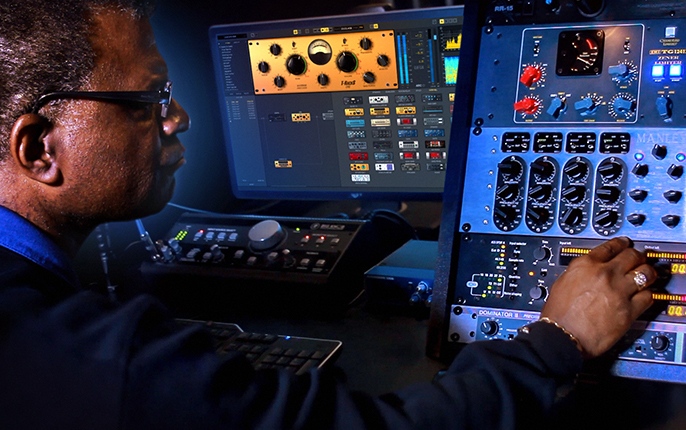 Earle Holder is currently the Mastering engineer for the world famous Public Enemy and Chuck D's record label SlamJamz along with many other industry heavy hitters. He has a musical background that spans his entire life and is a computer engineer by trade. He studied music with the late Jimmy Cannady of Cannady Studios (former member of the Inkspots for those of you who remember). He has more than 30 years' experience and is the recipient of several prestigious music awards. He is a regular guest speaker at music studios throughout North America and is quoted in numerous industry magazines.
He has recorded and produced for Atlanta Records and collaborated on numerous projects with Platinum artists and organizations such as Ma$e, Public Enemy, Walt Disney, Tony Terry, United Reggae/Footprintz Music Group, Chyna Nicole, Tameko Starr (MCA Records Europe),Shaq, Interscope Records, Universal Records,  Orchestra Buena Vista, Lucinda Williams, Kenny Banks, DeBarge, OCF Records, Loretta Heywood, Ayana, 4ize (Disturbing tha Peace, part of the Ludacris crew, JD Lawrence,  Candice (Australia) and countless others. He is an international Mastering engineer whose mastered cd's are frequently heard throughout the world.
For Earle, mastering and editing a recording project is analogous to assembling an art exhibit. This ability to add the missing ingredients into the music, and Earle's skillful production is what makes the whole artistic experience superb.
Check him out at HDQTRZ Mastering Studios
MASTERING PRESET LIST:
Airy.tr5p
Clean.tr5p
Club.tr5p
In Yo Face.tr5p
Peak Corrector.tr5p
Professional 1.tr5p
Professional 2.tr5p
Professional 3.tr5p
Radio.tr5p
Smooth.tr5p
Squeeze.tr5p
*Please Note: Presets are available for all users who have downloaded and authorized T-RackS 5 Custom Shop, T-RackS 5, T-RackS 5 Deluxe or T-RackS 5 MAX and can be downloaded from the User Area.